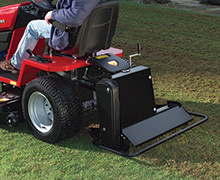 Countax Scarifier
Scarification is the secret to a perfect lawn. This scarifier is driven from your garden tractor's PTO.
The scarifier has height adjustment for precise depth control and covers a full 76cm (30") width of lawn.
The scarification process prevents your lawn becoming brown and patchy by removing moss and thatch, allowing the grass plant to receive adequate light and nutrients and encouraging lush green growth.
Instead of spending days of hard manual labour with a rake, simply mount the scarifier behind your garden tractor and take a leisurely ride around your lawn.
A Powered Grass Collector can then be used to sweep unwanted material ready for the composter.
"Countax Scarifier" has been added to your cart
Item
Price



@ each

Total:
Enquire About "Countax Scarifier"