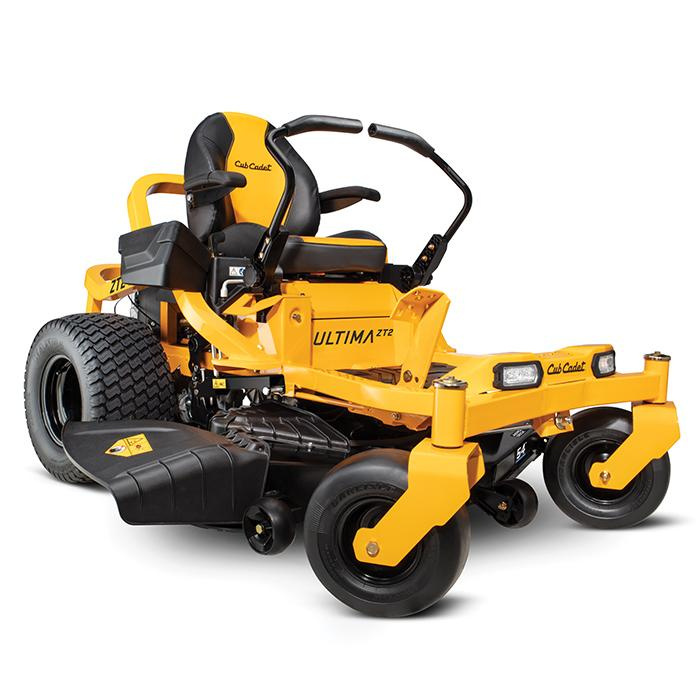 Cub Cadet Ultima ZT2 54"
SKU: MT17AIEAC3330
Built on a continuous, fully welded 2-inch by 2-inch square tubular steel frame, the Ultima Series is designed to maximize strength and rigidity. With fully adjustable premium high-back seats, polymer seat isolators, easy-adjust lap bars, and best-in-class cut quality, the Ultima is an optimized command center of comfort and precision. Designed to meet the needs of kiwis with larger lawns, the Cub Cadet Ultima Zero-Turn Ride-On takes the Ultima Series to new heights with its commercial-grade engine, transmission options and Aeroforce max fabricated decks with maintenance-free spindles – standard on all models.
The bigger tires, the larger seat with polymer seat isolators, and easy-adjust lap bars all help to provide a comfortable ride.
Warranty:2 Year
Engine Model:23HP Kawasaki V-Twin
Tow Hitch:No
Fuel Tank Size:13.2L
Drive System:Dual EZT 2800
Speed:12km/h
Chassis Type:Fully Welded Tubular Steel
Turning Radius:Zero Turn
PTO Clutch:Electronic Fingertip Engagement
Deck Width :137cm / 54"
Blades:Triple
Cutting Height Range:15 Position Cutting Adjustment 25-115 mm
Width:165cm
Height:122cm
Length:203cm
"Cub Cadet Ultima ZT2 54"" has been added to your cart
Item
Price



@ each

Total:
Enquire About "Cub Cadet Ultima ZT2 54""